Regular price
Sale price
$39.50 USD
Unit price
per
Sale
Sold out
Introducing the Brass Telescope 19' Scout Regiment Pirate Spyglass, a perfect gift for kids with a thirst for adventure. This unique piece is not just a toy, but a functional tool with 20x high magnification power, bringing distant objects into sharp focus.
Designed to replicate the rare 1940 London Scout Regiment model, this antique spyglass scope is a blend of history and functionality. Crafted from high-quality brass, it promises durability and a vintage aesthetic appeal. This telescope is a perfect blend of education and fun, making it an ideal gift for young explorers.
Order this high magnification Antique Brass Telescope 19 ' with detailed markings & a hand stitched leather case in bulk wholesale at manufacturer prices. Aladean Rare Brass Telescope Scout Regiment 1940 Replica, Spyglass Scope Replica Antique 19 inch Large Vintage Souvenir. Perfect gift idea for adult boys and men. A wonderful replica in theme of a series of unfortunate events spyglass. Pirate spyglass for kids is perfect baptism gift for boys and a wonderful birthday gift for men
A Magnificent Brass Telescope, working antique Replica of the Scout Regiment 1940 Replica 

Scope

Vintage Brass telescope is newly Hand Crafted in premium quality brass with Antique Finish,

Quite Heavy & LARGE Telescope spyglass Measure 19 inches when stretched and 7 inches when collapsed.

High Resolution Optical DF Lens provide brilliant magnification in this large brass telescope

A perfect souvenir, gift & a treasure for historical, Nautical, Marine, Pirate Collectors

The telescope comes in a hand stitched leather case
Share
Order & Delivery FAQ's

RETAIL & WHOLESALE ORDER & DELIVERY FAQ's

Here are the most Frequently Asked Questions in regard to wholesale and retail orders & delivery by Aladean. In case you have any other query feel free to use our Chat module or Contact us .

Q.1 : How soon can you deliver my order to United States. What is the lead time?

Answer : We ship all the RETAIL ORDERS within 24 hrs of receiving the Payments. The delivery time to United States is between 5 to 7 working days. However extremely rare Custom related delays are possible. We also offer express 3 day shipping on certain eligible orders at an extra cost. 

Q.2 : Do you ship Worldwide , If yes what is the delivery time outside United States.

Answer : Yes, we ship all our orders WORLDWIDE. Delivery to European , Asian & Australian oceanic countries takes 5 to 7 days with DHL express Air Shipping service which is used for RETAIL orders. For Wholesale orders the Lead time and deliveries depends on Quantity ordered.

Q.3 : Do You provide a tracking number for the order. Can we track delivery of the order placed.

Answer : Yes , all orders are processed & shipped via reliable delivery partners in most cases DHL | FEDEX | UPS , We update the tracking number and the delivery can be tracked.

Q.4 : I wish to get my Grandson Name engraved on the compass. Can you personalize the gifts for grandson ?

Answer : Yes , We accept customization / personalization orders. Kindly note We would need 3 working days lead time to dispatch a personalized order. Kindly send us an email with the customization / personalization TEXT / LOGO once the order is confirmed.

Q.5 : I see that for some of your products I can order a single 1 pc quantity while for others there is a minimum order quantity. I like a couple of products that I wish to order in multiple quantities , but not in your MOQs. Is that possible ?

Answer : YES , we can accept multiple product order in quantities as per your requirements. As a manufacturer we prefer Wholesale bulk orders, We have provided an MOQ on MADE TO ORDER products to offer best wholesale price for our products. The Retail Shop has a collection of our generic products that are available for personal use / sample purchasing etc. If a customer wish to order bulk quantity of any of our Retail shop product we offer them wholesale discount on demand. Retail Shop products are IN STOCK, ready to ship products , while the Wholesale Shop products are MADE TO ORDER and will have a lead time based on the quantity ordered. Its best to contact us and discuss the lead time for wholesale orders.

Q.6 : You are offering wholesale prices for even retail orders, Are their any other hidden costs to order from ALADEAN. Do I have to pay any extra charge / Import Duty while I get the parcel ?

Answer : International parcels may incur IMPORT DUTY based on the country /city of delivery. For example in United States , Duty is exempted for less that $800 value gifts for personal use. This can change as the regulations change. Any taxes , duties or Charges applicable at destination are required to be paid by the consignee. These charges are RARE and if ever charged then low , but cannot be pre calculated or pre estimated.
View full details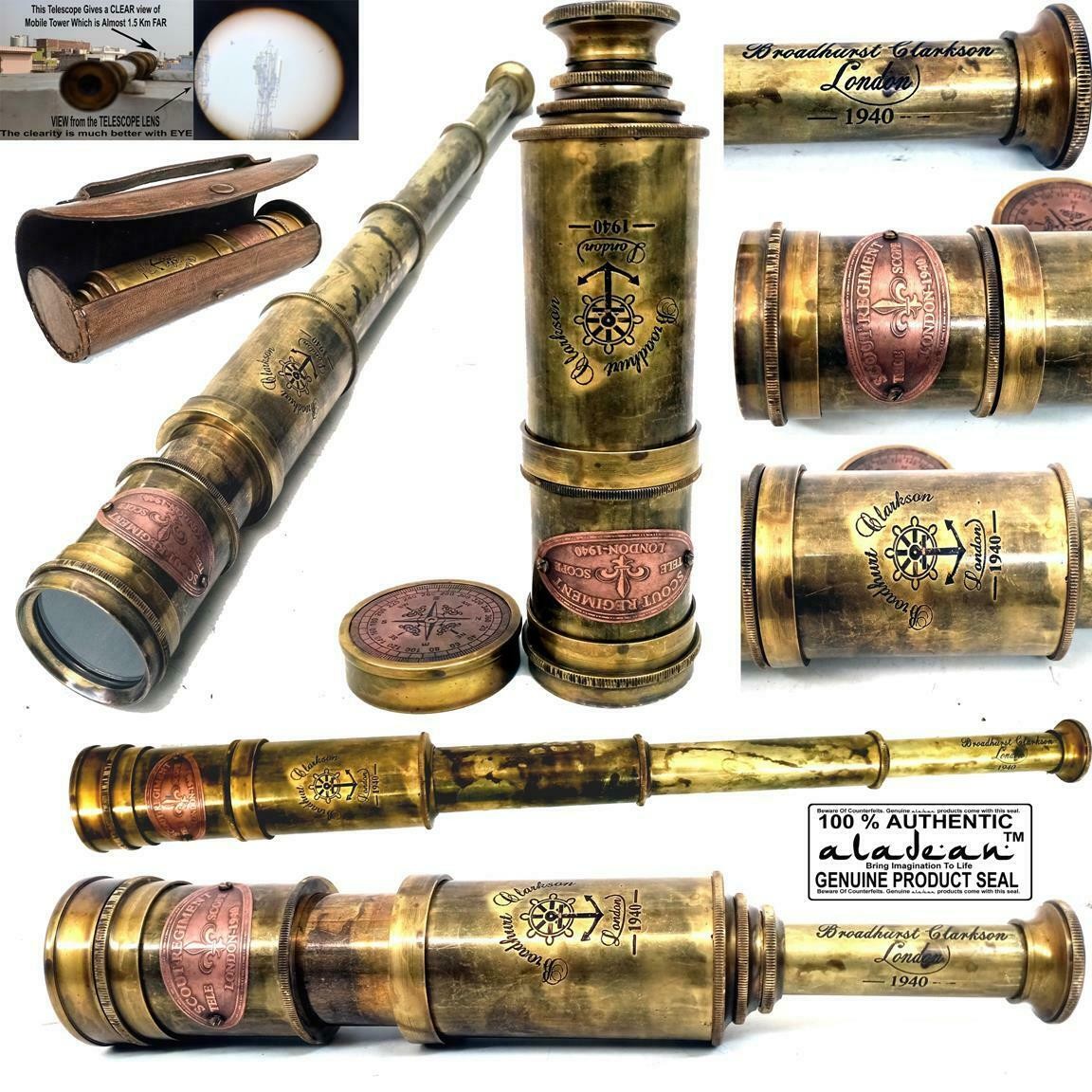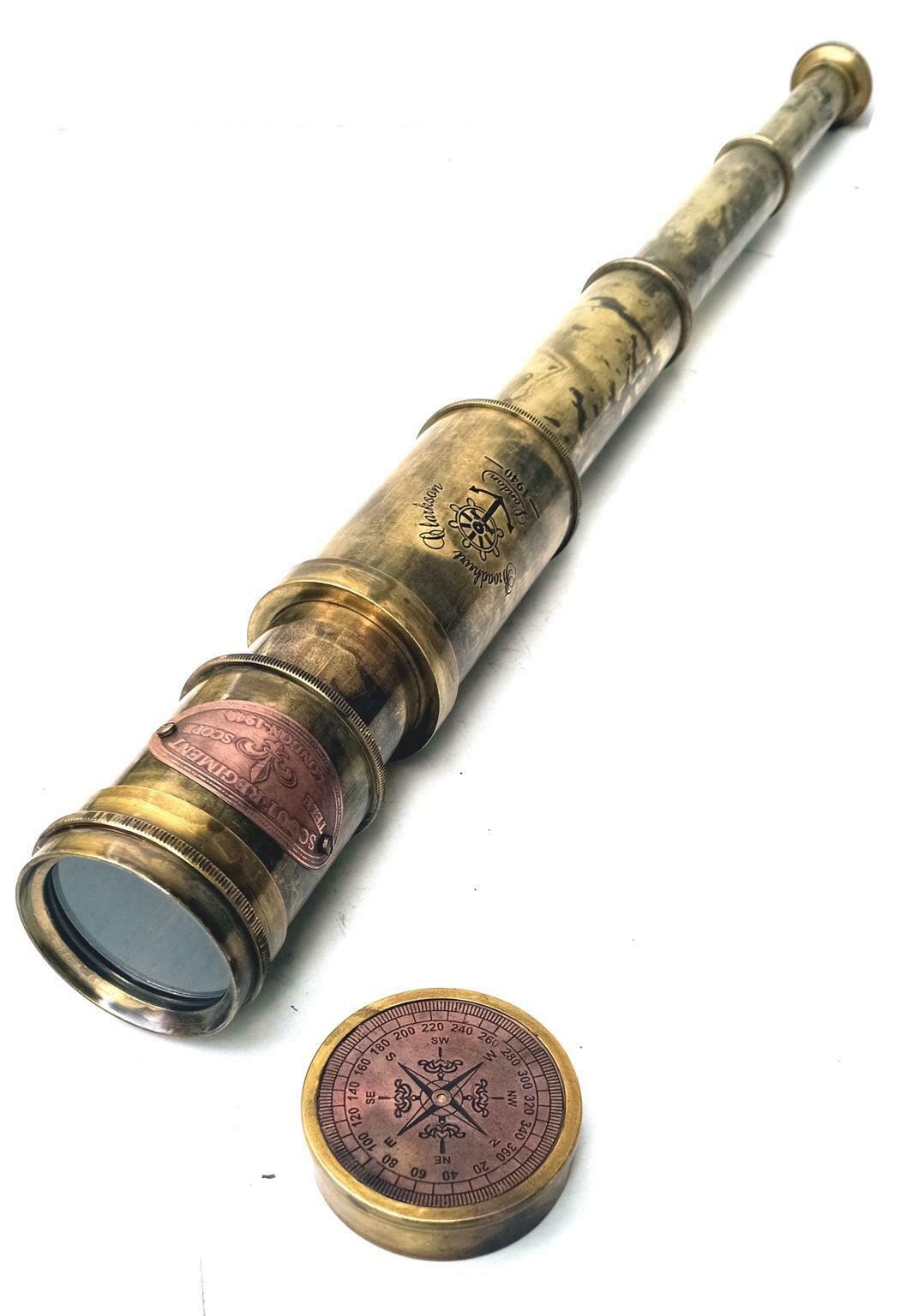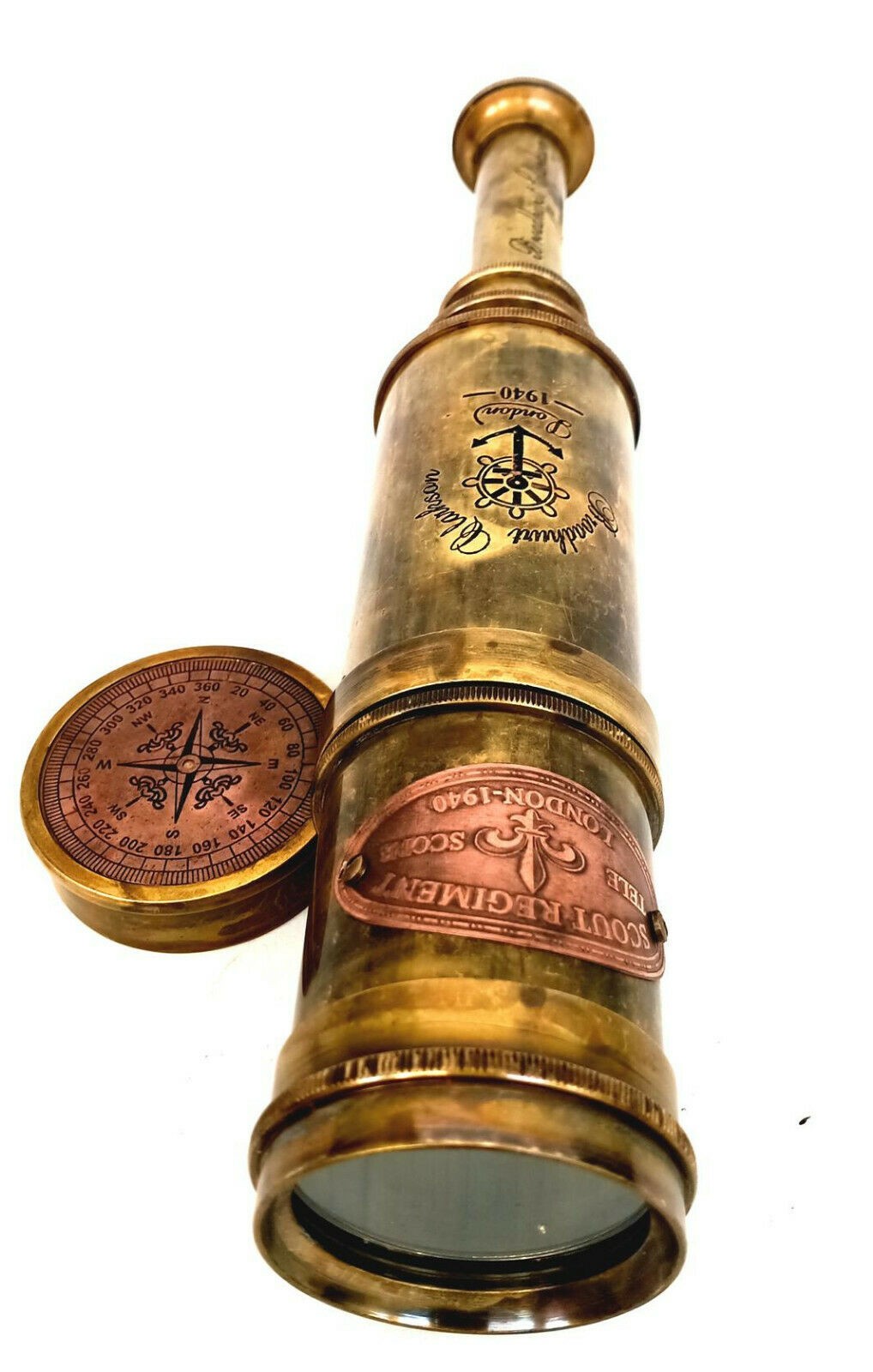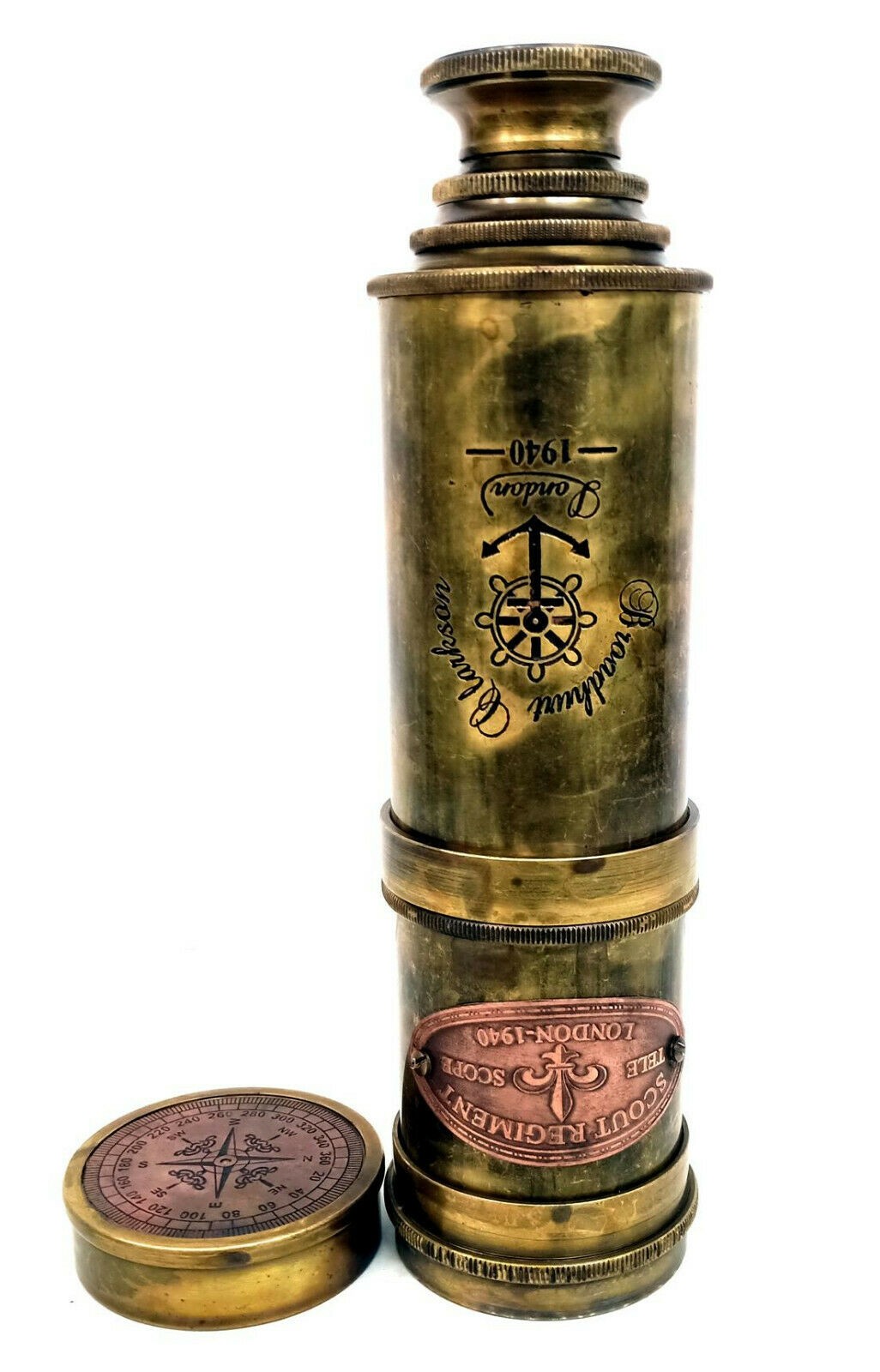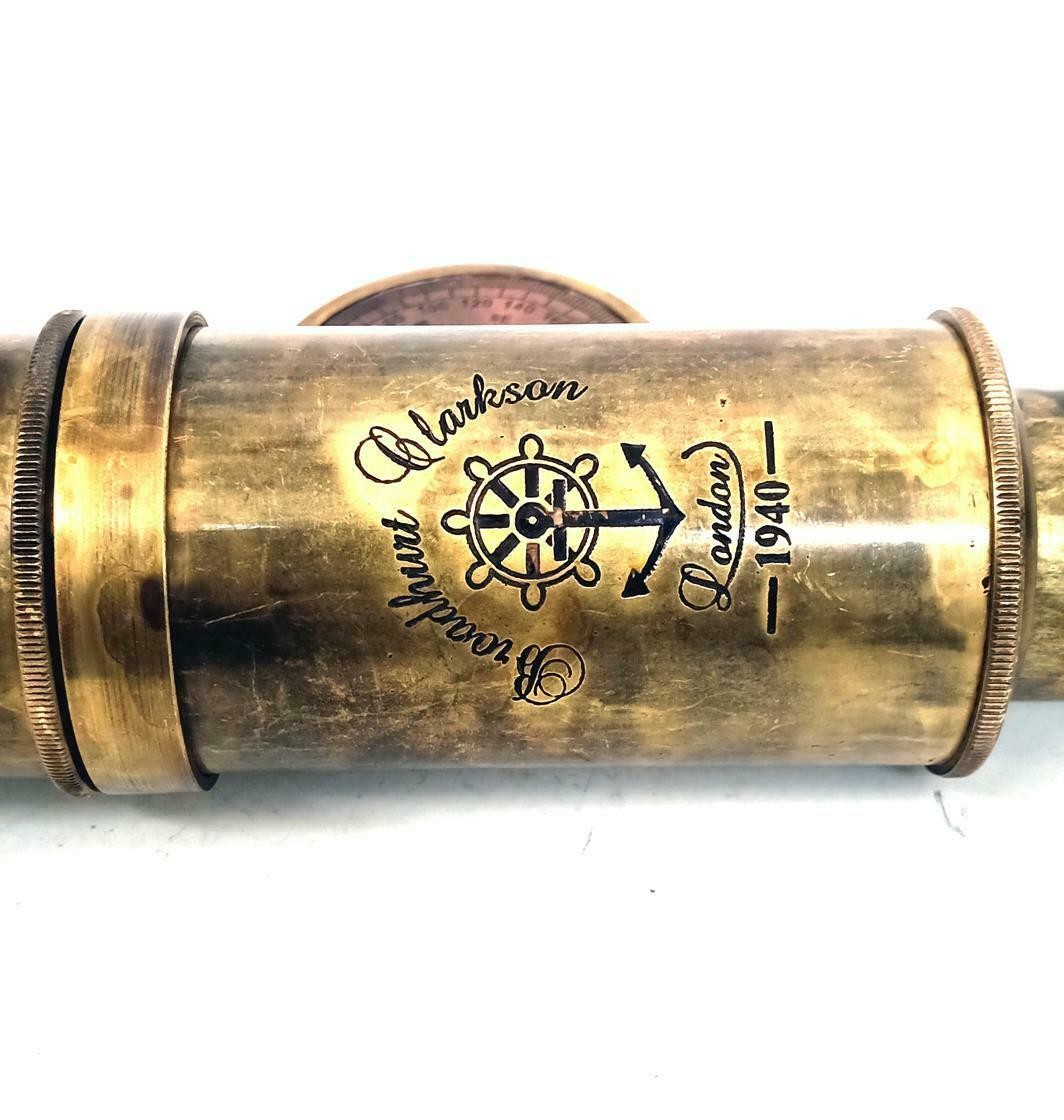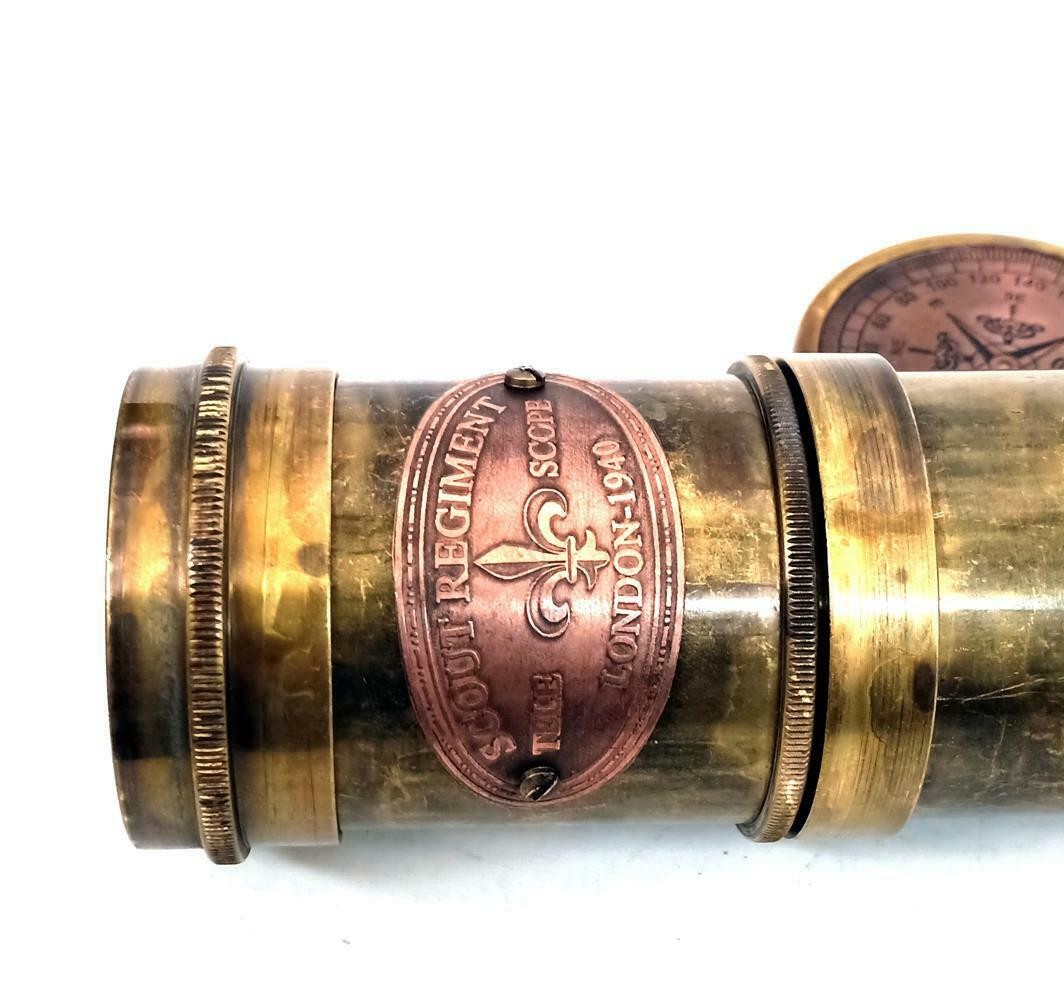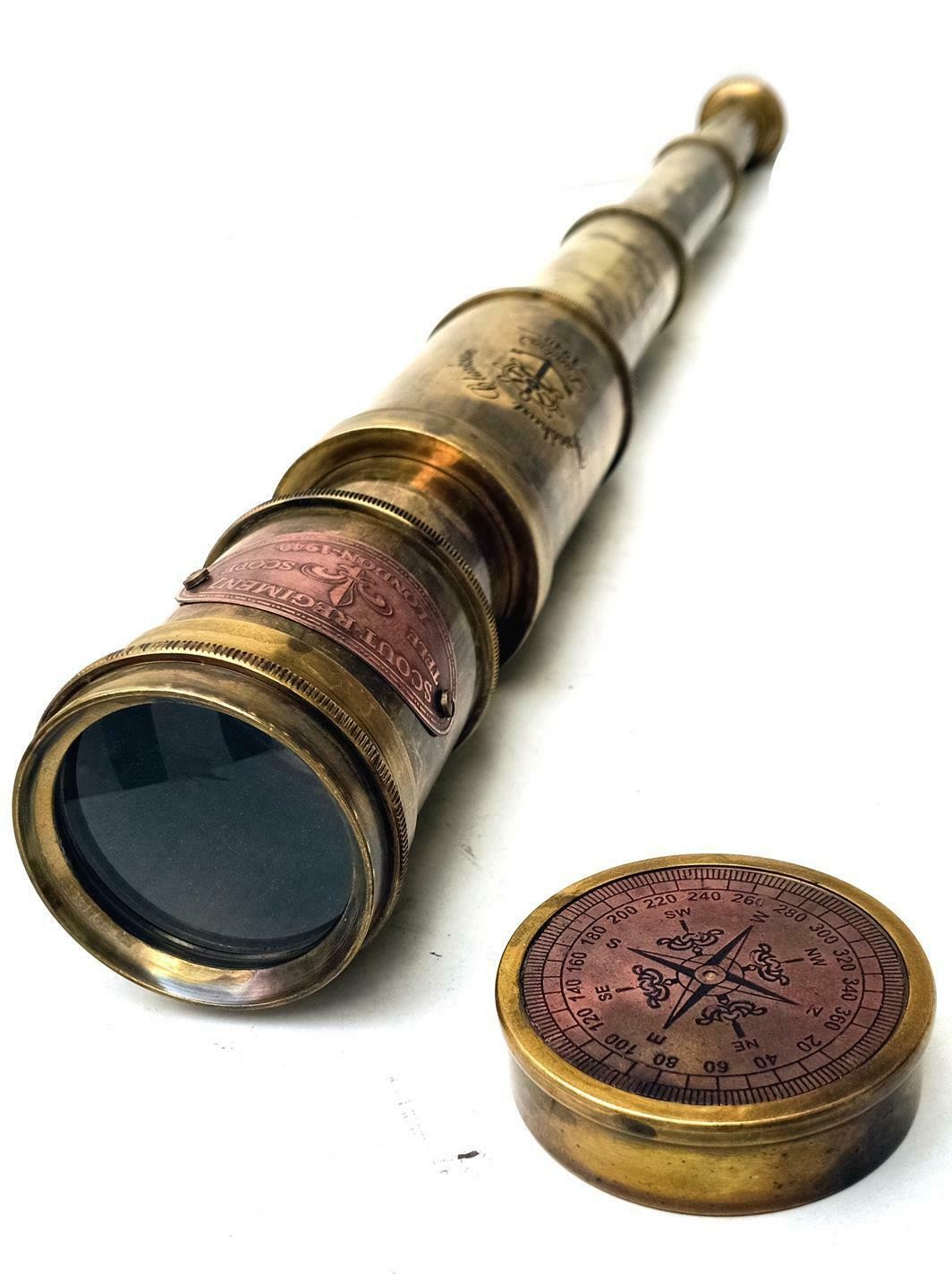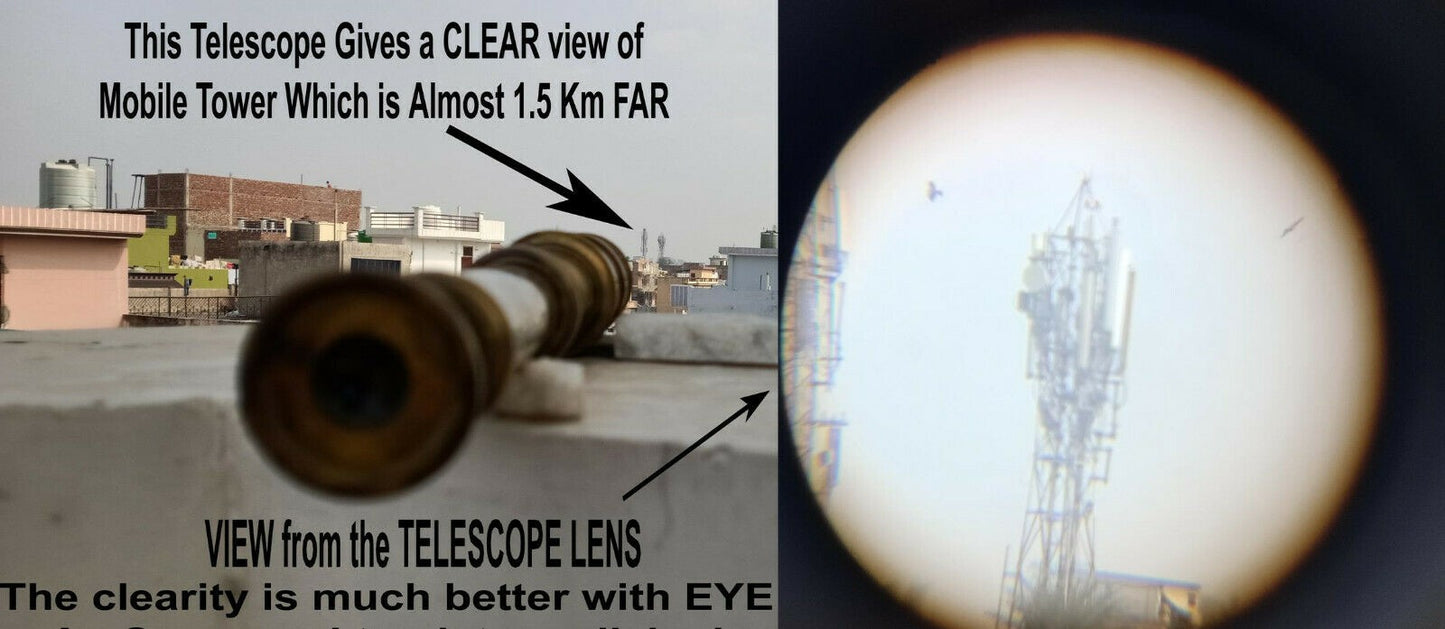 how to adjust the lens? I can't see anything out of it.

FOCUSING this aladean brass spyglass TELESCOPE IS EASY.
WHEN STRETCHED FULLY YOU MIGHT NOT BE ABLE TO VIEW ANYTHING.
THIS IS NOT A DEFECT, AS THESE ARE OPTICAL TELESCOPES, YOU WILL HAVE TO ADJUST THE EYEPIECE POSITION TO FOCUS ON A FAR AWAY OBJECT.
ON A BRIGHT DAY WE RECOMMEND YOU STAND OUTDOOR SOME WHERE ON ROOF TOP TERRACE OR A PLAY GROUND.
LOCATE A FAR AWAY OBJECT AND AIM THE TELESCOPE TOWARDS IT,
ENSURE ALL THE FOLDS OF TELESCOPE ARE FULLY STRETCHED AND THE OBJECTIVE LENS COVER LID IS REMOVED. NOW SLOWLY MOVE THE EYEPIECE INWARDS WHILE LOOKING THROUGH THE EYEPIECE , DO IT SLOWLY AND WITH A SLIGHT INWARD MOVEMENT YOU WILL GET A CLEAR FOCUSED IMAGE, FINE TUNE IT BY SLIGHT IN OR OUT MOVEMENT.
ONCE FOCUSED MOVE AROUND TO ENJOY FAR AWAY VIEW .
NOTE THE FOCUS POINT MIGHT DIFFER FROM EYE TO EYE & SO EACH USER WILL NEED TO MOVE THE EYEPIECE INWARD OR OUTWARD TO ATTAIN A FOCUSED IMAGE.

what is the magnification???

Hi this is an optical lens hand crafted telescope. We use high power DF lens to get the best magnification, which will deliver almost 20x zoom terrestrial Daylight magnification. Just for an approximation you will be able to view a ship or a running horse from approximately a Mile far. But you need to consider the fact that this is an antique replica of handheld spyglass , it will show you a running horse from a kilometer but it cannot be compared with the modern digital telescopes and binocular. It is a handicraft product that's more of a souvenir , treasure , gift in a pirate , scout , ship , marine , nautical theme. But yes this brass telescope deliver excellent magnification which is an advantage. To know how to move the eyepiece for focus refer description. Feel free to send any further